The Role is the function that must be performed by a member of the work team of a process, such as approving, auditing, archiving, producing, serving, inspecting or coding.
Responsibility means that the employee has a commitment and obligation to something, i.e., a training manager will be responsible for bringing to fruition all the knowledge of the people under his charge.
Health and Safety at Work
In all companies, regardless of the number of people involved, it is essential to carry out and manage the company's processes, which must be previously planned in order to achieve the company's objectives.
The people that make up the company, which play a specific role and function, supervise the processes and measure the results obtained at the end of the processes, determining whether the objective has been achieved to a greater or lesser extent.(Reviso, 2018)
Encuesta de identificación de condiciones de salud SARS-CoV-2
Email: seguridadindustrial@ingeniocarmelita.com
Tel:(+57)(2) 2260420 Ext:140
Formulario Evaluación-Inducción Y/O Reinducción De Seguridad Y Salud En El Trabajo
Formulario Identificación Y Actualización De Peligros Y Riesgos
Para Ingenio Carmelita S.A, los contratistas y subcontratistas son parte fundamental de la cadena de valor para el cumplimiento de sus objetivos y metas. El presente formulario es una herramienta que permite generar trazabilidad y validación desde el Área de Seguridad y Salud en el Trabajo.
Organización, Orden Y Limpieza Con Las 9's
Formato de reporte de actos y condiciones inseguras
¿Qué es un acto y condición insegura?
Acto inseguro: violación u omisión de una norma o procedimiento por parte del trabajador que aumenta las posibilidades que ocurra un accidente.
Condición insegura: situación intrínseca en nuestro ambiente de trabajo que aumenta la posibilidad que un accidente ocurra.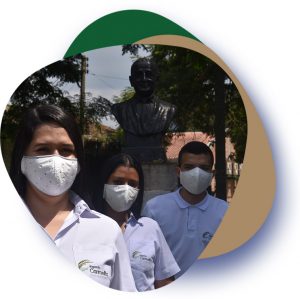 Protocolo De Bioseguridad Sars-Cov-2
Integral Management System Policy
Ingenio Carmelita S.A. is an agro-industrial company dedicated to the processing of sugar cane and the production and marketing of high quality sugar and derivatives, which meets the required specifications of our stakeholders, we work for social commitment, environmental conservation, care for people and their environment, in accordance with current legislation, through the assurance and management of its processes, with a qualified human talent and committed to continuous improvement, through the following actions:
of its employees and other stakeholders, avoiding discrimination and practices that violate the dignity of people, providing equal opportunities, professional promotion, ensuring the absence of discrimination based on sex, race, religion, origin, marital status, social status or irregularities that violate human rights.
of the national, local and any other legal regulations subscribed by the company, implemented by the national, departmental and municipal agencies as administrative entities, and to strictly comply with the provisions established by the Fiscal and Judicial entities.
The continuous improvement of the integrated management system in accordance with the economic and technological resources allocated, in order to improve the integral performance of the organization.